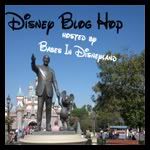 Good Afternoon! Today is blog hop day and the topic for this week is Magic Moments. What's not a Magic Moment at Disneyland? OK, there was that one time a bird pooped on me that wasn't so magical!
Our family has had so many magical moments at Disneyland. Little things like my son being an honorary rider on Jumping Jellyfish at California Adventure where they announced his name over the speaker and everyone clapped for him!
To much larger Magical Moments like when we were able to drive the Mark Twain Riverboat! The great thing about the Mark Twain is that your family can experience this as well.